When:
06/10/2018 @ 4:00 pm – 6:00 pm
2018-06-10T16:00:00-04:00
2018-06-10T18:00:00-04:00
Where:
1660 Samaria Rd
Temperance, MI 48182
USA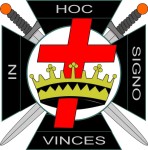 Gathering at 4 PM, Dinner at 5 PM
Reservations Required because this is a catered event.
$20 per person.
Please send Reservation s to
Sir Knight John  Updike at
Monroe Commandary #19 by June 6th 2018.
The celebration will be held at Monroe Commandery (Samaria Lodge) on Sunday June 10th 2018. Gathering will start at 4:00 pm followed by dinner at 5:00 pm. Price is $20.00 per person.
The menu will consist of roast beef, chicken breast, baked potato, green beans, salad, roll & butter, coffee, soda, and carrot cake for desert.
Reservations are required since this is a catered dinner and we will need reservations in by June 4th.
Make checks payable to: Monroe Commandery No.19
and mail to PO Box 2, Samaria, MI 48177 – 0002