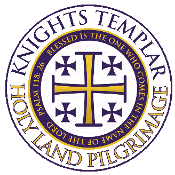 The purpose of this charity is to send Ordained Christian Ministers to the Holy Land on a Biblical study and historical / cultural immersion experience who would not otherwise have the opportunity. In February 2012, the Knights Templar will sponsor the 32st Pilgrimage of Christian Ministers.
Since 1977, the Knights Templar of Michigan has sponsored Holy Land Pilgrimages for 237 Ministers. A total of 2,032 Ministers have been sent from across the United States from a variety of denominations. The Holy Land Pilgrimage tour is a recent addition to the other philanthropic activities of the Grand Encampment.
It's exciting to see the Ministers return from their Pilgrimage to the Holy Land and to share their experiences with their Congregations. Ask any Sir Knight how to nominate your Minister. Your Recorder will have the necessary application forms. Please be generous.
The forms and a check should be sent by September 20th to allow for timely processing to:
SK Howard H. Crumit, Jr., KCT, PGC
Chairman, Michigan Holyland Pilgrimage Committee
Grand Commandery Knights Templar of Michigan
1989 Long Lake Shore Drive
Bloomfield Hills, MI  48302-1238